Description
The KC908U and KC908V are Lite versions of the KC908 series receivers with ONE receive port and ONE source port. KC908U supports 100kHz~4GHz frequency range; KC908V supports 100kHz~6GHz frequency range. KC908U/V adopts stainless steel precision SMA connector.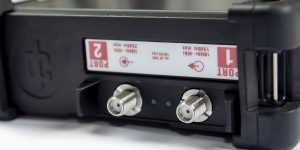 Basic Function
Spectrum analysis
Digital voice demodulation(built-in DMR-Tetra only in 136-174MHz & 410-470MHz with out option)
Field strength measurement
Signal generator and IQ files play
Useful Functions
Better than 15KHz frequency measurement accuracy with any sweep span, a single measurement can get the accurate frequency.
Comfortable monitoring with multiple squelch mode
Automatically log strong signals for reconnaissance
Storing up to 999 channels
Waterfall figure display
Record IQ and audio to TF card
Level tone function for tracing on foot
Signal demodulation with high volume audio for noisy environment
Application
KC908 can be used as a traditional spectrum analyzer. It's also the ideal choice for digital, pulse or unstable signals(like magnetron output).
Professional communication engineering
IoT project
Interference searching
Concealed signal source searching
Electromagnetic radiation measurement
Radar and satellite station
Radio reconnaissance and monitoring
Spectrum resource occupancy analysis.
Industrial microwave engineering
Electromagnetic environment evaluation