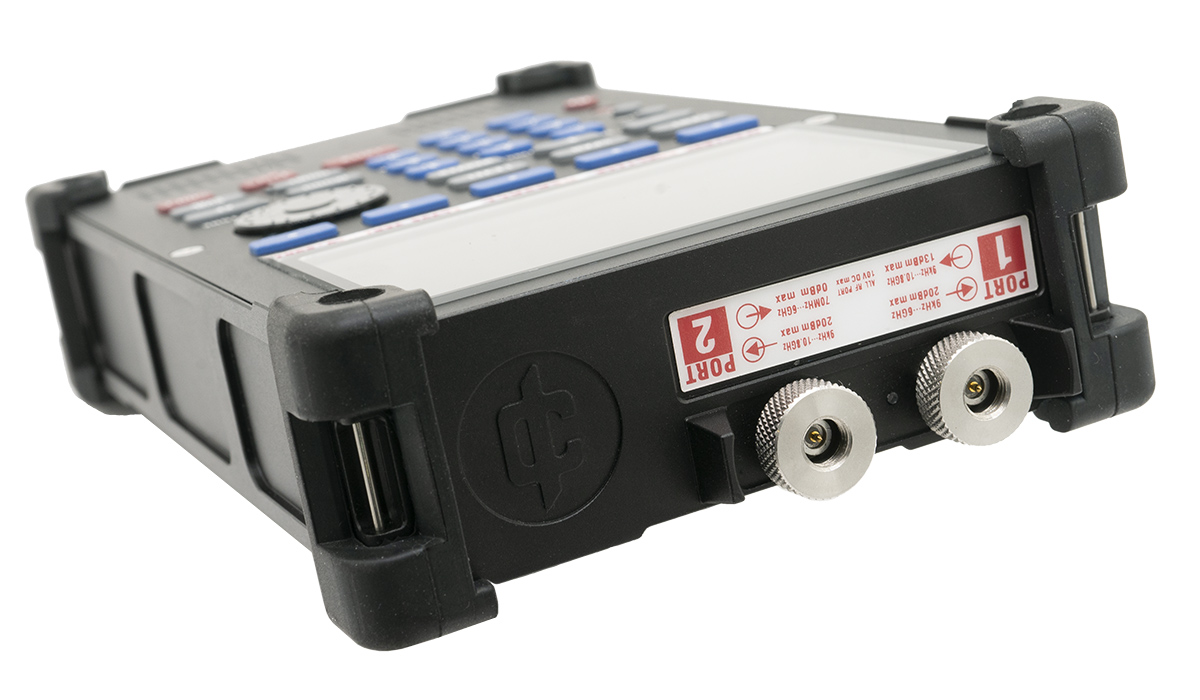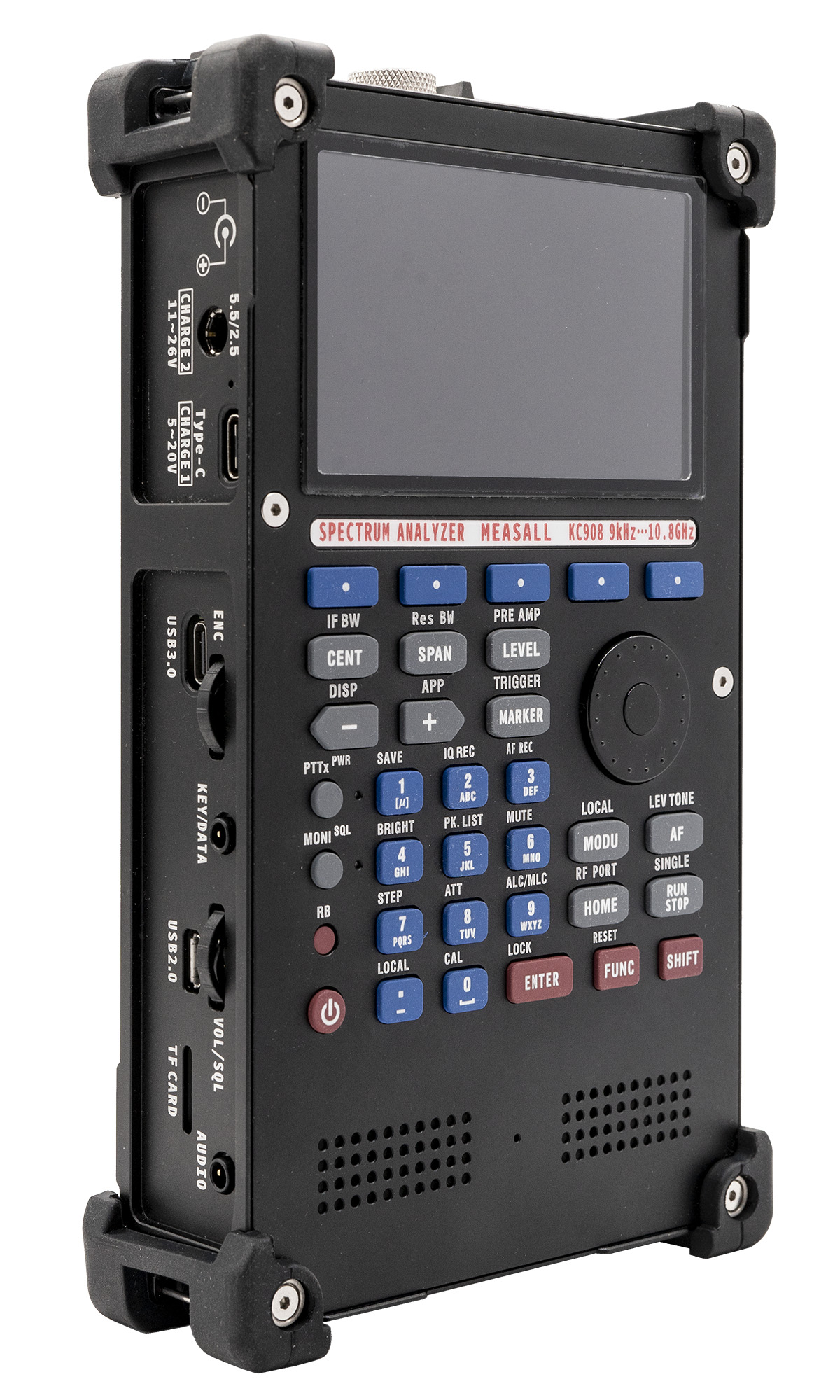 Introduction
KC908 is a wide-band sweep receiver, it is capable of measuring spectrum and field strength,demodulating and monitoring signals like AM FM SSB YSF D-STAR and DMR. As for uncommon signals, KC908 can record the IQ signal and save for analysis.
KC908 is based on SDR theory. Different from other SDR receivers, KC908 integrates complete digital signal processing unit and user interface, so there is no need to depend on a computer.Also KC908 supports SDR software like HDSDR and is able to connect with GNURadio.
As a reconnaissance equipment, KC908 reaches 3GHz bandwidth per-second with a 10kHz frequency resolution, which is equivalent to 120,000 25kHz channels. It takes less than 0.1 second to sweep 300-500MHz,. We're proud of such a decent performance on a micro-size hand-held equipment.
KC908(A/B model) comes with 2 receiving channels. It can measure the amplitude and phase difference between two channels. Also, it's equipped with signal generating function to output the CW , modulated signals and play IQ files. With GNURadio connected, KC908 is even capable of outputing relatively complicated digital modulating signals.
Feature
Basic Function
1. Spectrum analysis
2. Field strength measurement
3. Signal generator & IQ play
Product Highlight
1.Better than 15KHz frequency measurement accuracy with any sweep span, a single measurement can get the accurate frequency.
2.Comfortable monitoring with multiple squelch mode
3.Automatically log strong signals for reconnaissance
4.Storing up to 999 channels
5.Waterfall display
6.Record IQ and audio to TF card
7.Level tone function for direction finding
8.High volume audio output for noisy environment
9.Digital signal demodulation ( required to install the option)
Main Performance
Item

Min value

Typical value

Max value

Note

Frequency range

9kHz

10.8/18.6GHz

Real time bandwidth

1kHz

15MHz

Analysis bandwidth

1Hz

2MHz

can be set to 8MHz

Demodulation bandwidth

150Hz

300KHz

100% POI(note 3)

210us

Where SPAN=15MHz

Level measurement range

+20dBm

Level measurement uncertainty

1.5dB

Receiver only

Noise floor

-120dBm

@12kHz BW, avg

Instrument noise coefficient

13dB

With max gain

Third-order intercept point

-42dBm

46dBm

REF=-70dBm

REF= 20dBm

First image suppression

50dB

70dB

IQ image suppression

60dB

Residual response(note 4)

-110dBm

-90dBm

Port N.C

With whip antenna

Spurious response

-50dBc

Signal generator output level(note 5)
-80dBm

10dBm
1dB step

Battery life

4h

Weight

900g
Note:1. This table just shows the parameters that user are concerned about, for detail please see the technical parameter table in the user manual.
2. Performance is measured with the right port. The receiving performace on the left port maybe inferior to the right port.
3. We define the intercept in POI as accurate measurement.
4. KC908 will transmit EMI during the measurement. If the antenna is close to KC908 it will receive the EMI. This parameter is measured by a 0.2m whip antenna, 1m from the KC908 in the microwave anechoic chamber.
5. Different versions, different frequency output level range is slightly different. For 18.6GHz version all available frequencies are up to 13dBm.
| | | | | |
| --- | --- | --- | --- | --- |
| Item | Condition | Typical | Max | Note |
Normalized noise floor(note 2)

3MHz-500MHz

-162dBm/Hz

-155dBm/Hz

All refer to with max gain. REF=-70dBm, others at auto. Average value detection mode.

500MHz-6GHz

-163dBm/Hz

-153dBm/Hz

6-10.8GHz

-160dBm/Hz

-147dBm/Hz

6-18.6GHz

-150dBm/Hz

-140dBm/Hz

FM demodulation

(note 3)

3MHz-500MHz

0.3uV

12kHz BW

AM demodulation

1MHz-500MHz

1uV

9kHz BW

SSB demodulation

1MHz-500MHz

0.15uV

3kHz BW

CW demodulation

1MHz-500MHz

0.1uV

600Hz BW
Note: 1. Ambient temperature 25℃, neglect influence by residual response or other factors.