Description
Scintillator sensor gamma-spectrometers and radiation dosimeters KC761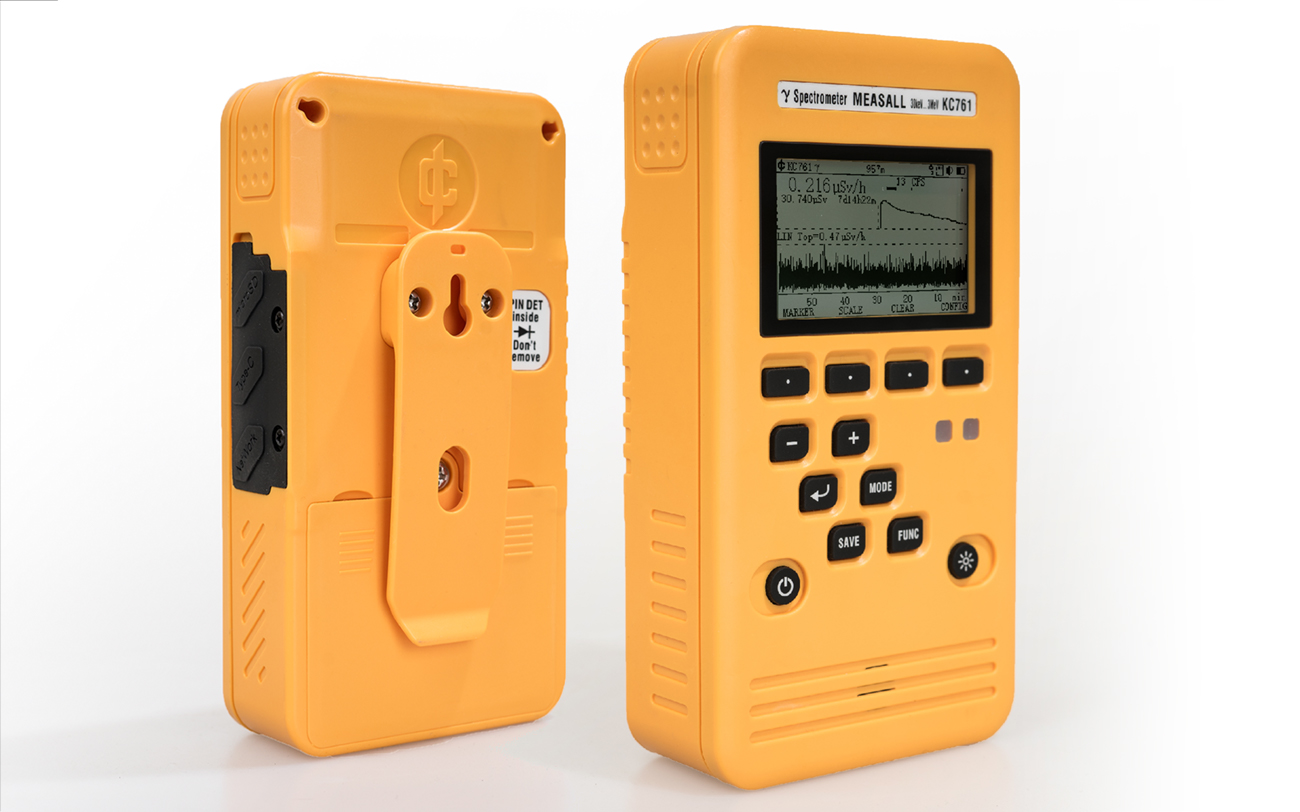 Product Features 
Primary sensor using CsI (2.54cm³) scintillator and SiPM, and auxiliary sensor using PIN tube (9mm²).
Powered by three dry cell batteries (AA/LR6) for up to 10 days of continuous use* (power saving mode on at low count background radiation).
Support USB (type-C) power supply, POE power supply and can automatically switch.
Weighs 300g and includes a display that can directly show the energy spectrum and other data with no need to connect to a cell phone; IP65 level waterproof.
Wide range of interfaces, built-in WIFI, Bluetooth and RJ45 ports (supports POE power) and microSD card slot for easy data transfer.
With light, sound and vibration alerts.
Product Functions
Radiation measurement with Multi-Channel analyzer
Dose display based on energy compensation(up to 100μGy/h)
Radioactive isotope identification
KC761 on DOSE mode

KC761 on SPEC mode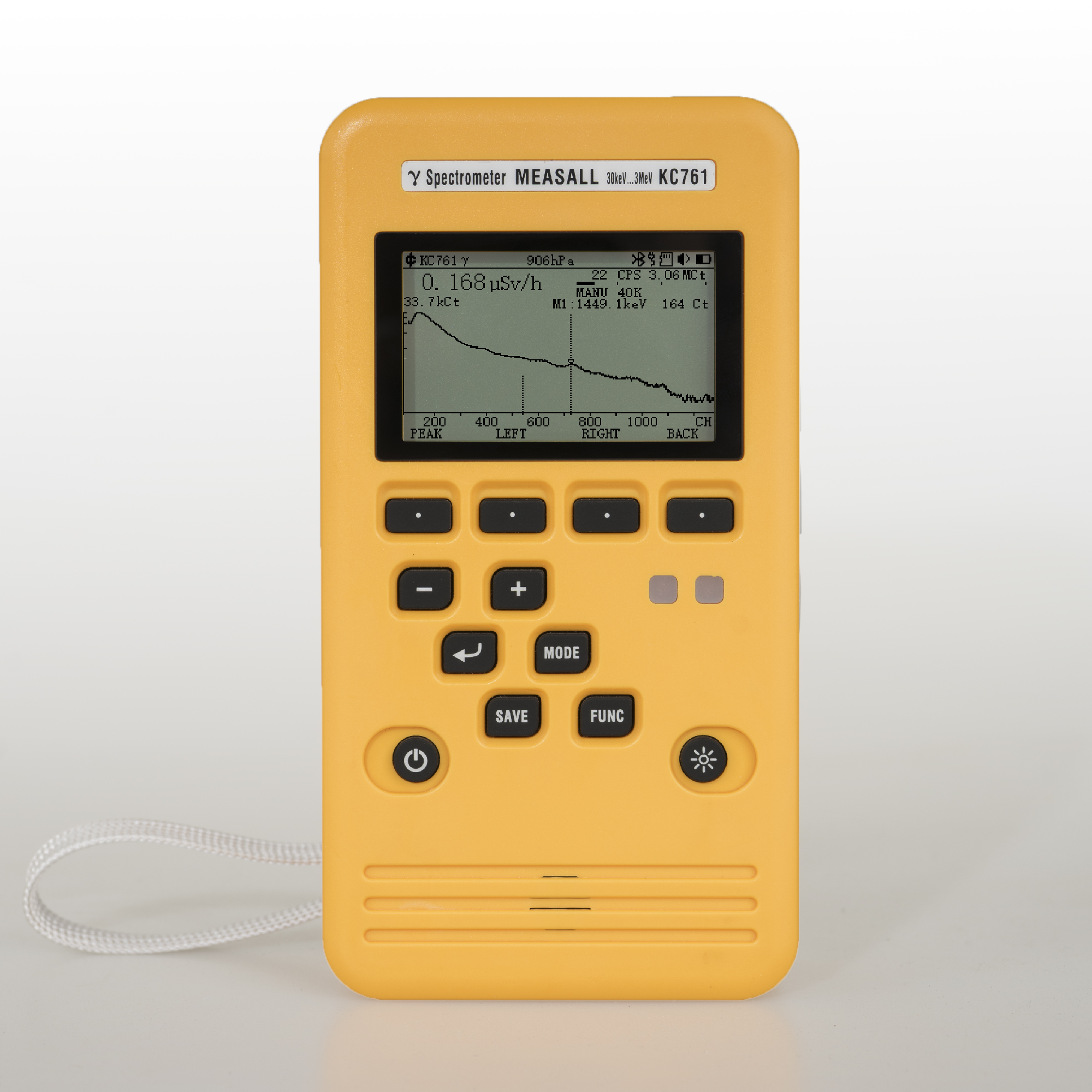 Apps with iOS and Android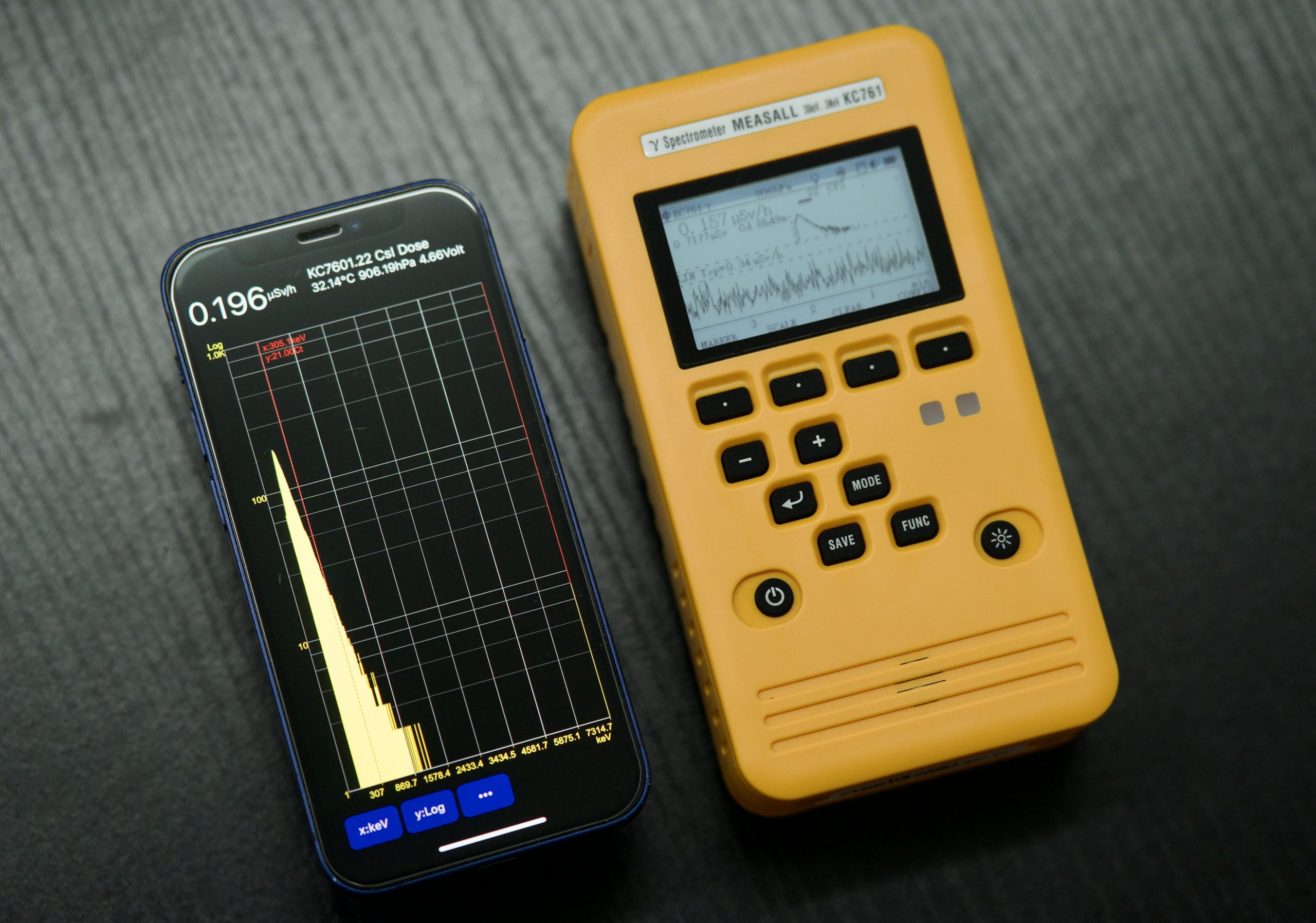 Apps Download
User Manual

Product Parameters
Energy scale of gamma rays

Uncertainty ≤ ± (5% + 20keV) or typical uncertainty ± (2% + 10keV) at 23±5°C within 100 to 10kcps

Energy resolution of gamma rays

Based on the technical parameters published by the sensor.

Standard sensor: (Left window)Crystal 10X10X25.4mm CsI(Tl) with 2X9mm² SiPM energy resolution 10%
Additional resolution degradation of the instrument (95% confidence level):
where E is the peak center energy in keV.
Gamma radiation absorbed dose rate (error exists)

Energy spectrum mode: background ~ 1mGy/h, uncertainty ±15%@662keV
Dose mode: background ~ 2mGy/h, same as above
Compensated energy response: ±20% (80keV~1.5MeV), -23%~+43% (50keV~2MeV)
Strong radiation alert: 1mGy/h~10mGy/h, -50%~+100%@662keV. Since energy compensation is not available at this time, the error may be greater at other energies.

Gamma radiation equivalent dose rate (error exists)

≤1mSv/h, typical uncertainty ±15%
> 1mSv/h, -50% to +100%
Equivalent dose (typical value at ≤1mSv/h, directionality exists):HP(0.07), HP(3): ±30%, HP(10): ±20%
Limit of equivalent dose accumulation: ~10Sv

Measurement time
Energy spectrum accumulation time: settable from 1s to 86400s (maximum count rate of 80kcps for scintillation detector, maximum count rate of 10kcps for PIN detector).
Dose accumulation time:any time: since the last time the user cleared the accumulated dose, to view the accumulated dose, nonvolatile storage cycle ~ 1h, shutdown and save.
Temperature stability: -10~45℃, amplitude drift ≤±10%, energy drift ≤±5%.
 Long-term stability: typical amplitude drift ±10%/a, typical valuedrift ±5%/a.
Standard sensor: (Left window)Crystal 10X10X25.4mm CsI(Tl) with 2X9mm² SiPM energy resolution 10% ; 3x3mm PIN detector
Temperature range: -20~50℃(work properly ); -40~65℃ (performance not guaranteed )
Humidity range: 0% to 100% ( for short term, when there is no condensation inside the device)
Altitude: -2000m~8000m(Barometric pressure change rate<10hPa/min)
Waterproof level: IP65 (for short term, the rubber cap on the interface must be well-covered)
Seismic resistance: 1g,20Hz,30min
Shockproof: Any direction, 1.5m, without functional failure, but performance degradation (including loss of accuracy) or cosmetic damage may occur.
What in Package
KC761 *1
Short strap *1