Description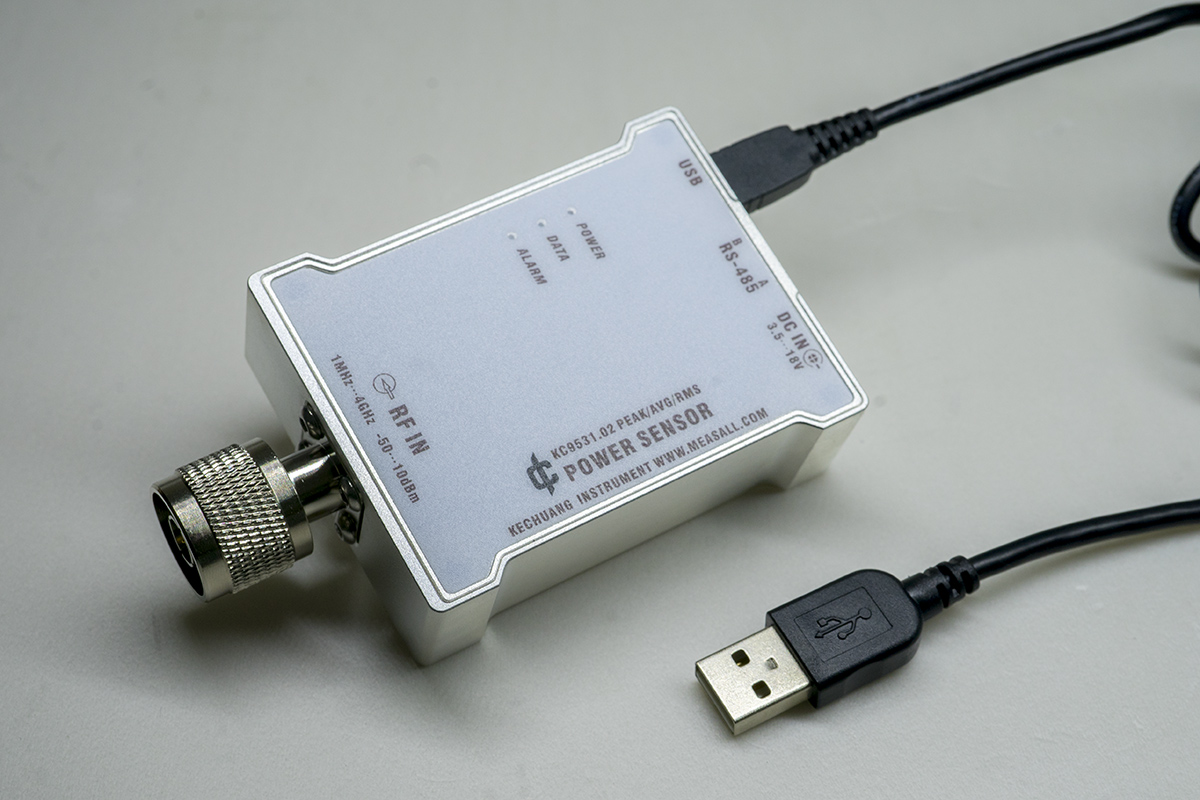 KC9531 is a power sensor for industrial microwave application scenarios, used to monitor the power parameters of stable microwave sources. It can adapt to the harsh environment of industrial sites and can correctly measure all kinds of stable power sources.
Product application
Solid-state microwave source power monitoring
Power monitoring of magnetron microwave sources with stable DC power supply
Other occasions where continuous wave power monitoring is required
If you need to monitor unstable, non-continuous wave signal (such as ordinary magnetron microwave source), please use KC9532
Measurement range
+10dBm~-50dBm
1MHz~4GHz
Product Features
USB2.0 protocol specification.
Integrated 1~2 channel CAN-bus interface, supporting CAN2.0A, CAN2.0B protocol, conforming to ISO/DIS 11898 specification.
CAN-bus standard ID is user configurable from 0×000 to 0x7FF.
CAN-bus communication baud rate can be user set 1000kbps, 700kbps, 500kbps, 250kbps, 100kbps, 50kbps, 25kbps, 7kbps.
Can be powered by USB bus power supply or by external power supply (DC+3.5V~DC+18V, 300mA).
CAN-bus or RS485 interface with electrical isolation and insulation voltage: DC 1000V.
Measurement data refresh rate: 200 points per second (smoothed).
Support plug-and-play.
Tools and software support
KC power meter; works on WindowsXP/Win7/8/10.
Parameter
min
typ.
max
unit
note
RF parameter
Frequency range
1
4000
MHz
Amplitude(1)
-50
10
dBm
Detection method
sampling(peak,average,RMS)
Minimum pulse width
100
μs
Uncertainty 100~3500MHz,25℃,-40~0dBm
0.2
dB
calibration on known frequency
1.5
dB
Long-term stability 1y
0.5
3
dB
calibration cycle
2
year
Power supply
voltage
USB supply
4.5
5.5
V
DC supply
3.5
18
V
current
USB supply
300
mA
DC supply
<100
<400
mA
Data output
USB
Serial data
CAN bus
standard can bus(KC9531.01)
RS485
RS485,M-BUS(KC9531.02)
Environment parameter
temperature(2)
-20
60
℃
storage temp
-40
85
℃
Relative Humidity
0
90
%
RF port
N-J
Max DC input
15
V
Maximum parameter
RF input
20
dBm
DC supply voltage
18
V
Mechanical parameter
L-W-H
100
60
24
mm
RF port include
weight
300
g
Acceleration(3)
5
g
1h
1: Use appropriate couplers and attenuators. If the field electromagnetic environment is too harsh, you need to add proper magnetic ring to the power cable, CAN or USB cable.
2: Uncertainty increases when the range of 10~45℃ is exceeded.
3: When used in a vibration environment, the sensor should be fixed with mounting bolts on the sensor body and connected with flexible cables. When used in a vibration-free environment, it can be supported by the RF port only.